Have you long been mulling over a complete kitchen remodel? Think about how much time you spend in the kitchen every day. Wouldn't it be nice to enjoy your dream kitchen, with your choice of an infinite variety of cabinetry, countertops, flooring materials and all the appliances you want, expertly designed and constructed to provide maximum utility, ease of cleanup and food safety?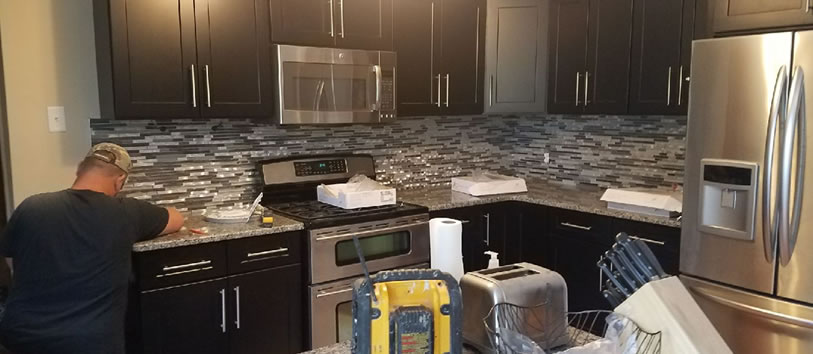 Free Plano Kitchen Remodeling Estimate
The opportunities to express yourself with a brand-new kitchen are endless. From simple remodels focusing on low cost and effective use of tight spaces, to lavish kitchens worthy of a king with granite countertops, custom cabinetry, integrated appliances and intricate tile backsplash work, your new kitchen should meet your family's unique needs and budget, and be a comfortable central hub in your home that makes you smile every time you use and enjoy it.
A full Plano kitchen remodeling requires knowledge of many specialized services in the contracting industry. Electricians, cabinetmakers, countertop contractors, plumbers and flooring experts could be hired separately, but the most-successful and best-value kitchen remodels come from a qualified contractor who can work together with you from the design stages to ensuring every aspect of the job is completed on time, within budget and to the highest standards, as you deserve.
By putting you in the design chair while taking care of all the backbreaking and time-consuming labor that comes with kitchen remodeling, a Plano contractor will soon become your greatest ally as your new dream kitchen takes shape. The best contractors know that many times, homeowners and their families need to continue to live in and carry out day-to-day activities in their homes during the remodeling process. That's why any and all professionals entering your home should be sensitive to your personal space and time, always displaying trustworthiness and a professional demeanor.
Call (346) 704-5004 to reach Texas Handyman the best kitchen remodeling company in Texas.
Fill out our free estimate form for your upcoming Plano kitchen remodel. We'll make sure to get back to you quickly with a custom solution for the right kitchen for your home, family and budget. Turn your dream kitchen into a reality today!
Kitchen Remodeling in Plano, Texas
Hang, Install, Remodel or Replace
Backsplashes
Built-In Appliances
Carpentry and Furniture
Countertops
Custom Cabinetry
Custom Kitchen Design
Custom Tile Work
Energy-Saving Appliances
Granite Counters
Kitchen Appliances
Kitchen Islands
Kitchen Plumbing
Kitchen Remodeling
Kitchen Repairs
Kitchen Tools
Luxury Kitchens
New Home Kitchen Design
Painting
---
Fill out our free estimate form or Call (346) 704-5004 to speak to a Texas Handyman today.