Rain gutters play an important role in keeping your Montgomery County home safe from weather damage, channeling water and debris away from your roof and home. You're likely reading this because you need a clogged rain gutter cleaning, or you are building or refurbishing your home and would like to see what installation options for brand-new gutters are available.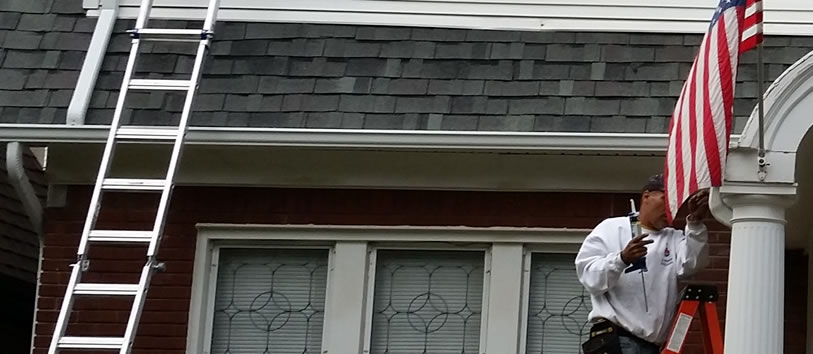 Free Montgomery County Gutter Cleaning and Repair Estimate
You have quite a variety of gutter materials and construction options to choose from, each with their own strengths. Metal gutters in cast iron, zinc, galvanized steel, copper or aluminum provide ultimate durability and a range of looks for your home. Box gutters are concealed within the roof structure for a clean and low-profile look. Regardless of your choice for professional gutter installation, you should consider leaf guard screens or a hood system to keep leaves and other contaminants from creating clogged gutters.
Your gutter's downspouts can become rusted or clogged with leaves and other debris, preventing them from accomplishing their given task of channeling water from rain and snow away from your home. A thorough Montgomery County gutter cleaning requires special tools and professional experience, but thankfully costs a lot less than you might think.
If your gutters have been damaged or clogged with rust and debris for any significant time, it is possible your home has some water damage. In addition to gutter maintenance and cleaning, you should have a qualified professional check your roofing and attic for mold or water damage.
Call (346) 704-5004 to reach Texas Handyman the best gutter repair and installation experts in Texas.
Fill out our free estimate form for Montgomery County gutter installation and repair and we will give you a prompt and custom-tailored plan for all-new gutters for your home or business, or to schedule gutter cleaning, maintenance or repairs today.

Gutter Contractor in Montgomery County, Texas
Assemble, Install or Replace
Apartment Building Gutters
Box Gutters
Commercial Building Gutters
Downspouts
Gutter Cleaning
Gutter Hoods
Gutter Installation
Gutter Maintenance
Gutter Repairs
Gutter Screens
Hidden Gutter Installation
Rain Barrels
Rain Gutters
Rainwater Tanks
Seamless Gutters
Water Damage Repairs
Weatherproofing
---
Fill out our free estimate form or Call (346) 704-5004 to speak to a Texas Handyman today.